Pascale Joassart-Marcelli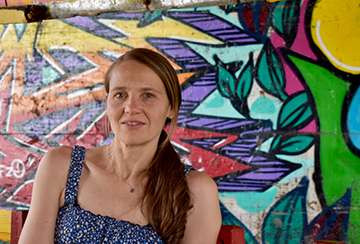 Professor of Geography, Urban Studies Program Director
Storm Hall 309B | [email protected]
Curriculum Vitae | Google Scholar Site
Pascale Joassart-Marcelli is Professor of Geography, Director of both the Urban Studies and Food Studies programs, and founding Co-Director of the Center for Better Food Futures at San Diego State University. She earned a B.A. and M.A. in Economics at the Facultés Universitaires Notre Dame de la Paix in Namur, Belgium before obtaining a Ph.D. in Political Economy and Public Policy at the University of Southern California. She eventually discovered the power of geography as a doctoral student and capped her studies with a post-doctoral fellowship in Geography at the University of Southern California.
Pascale's teaching and research focus on urban poverty and social justice. During the past decade, she has conducted research on urban geographies of food, with a particular interest in the relationship between place, ethnicity, and food. Her work emphasizes the role of food in sustaining immigrant communities, providing economic opportunities, and revitalizing neighborhoods, while also contributing to social exclusion and exploitation. She is especially interested in understanding the transformation of urban foodscapes and the impacts of food-related gentrification on immigrants and people of color. This current work is a continuation of her earlier research on the informal economy, refugee and immigrant economic integration, and the nonprofit sector. Pascale relies on mixed methods in her research, combining analyses and mapping of quantitative data with ethnographic work, participatory research, and media explorations. She collaborates with several community-based organizations in San Diego that are working towards creating a more just, healthy, and environmentally-sound food system.
Pascale regularly teaches Geography of Food; Feeding the World; Food, Place, and Culture; Geography of Cities; Economic Geography; and Community-Based Geographic Research. She has published over 50 peer-reviewed articles and book chapters and is the author of two award-wining books including The $16 Taco: Contested Geographies of Food, Ethnicity, and Gentrification (2021) and Food Geographies: Social, Political, and Ecological Connections (2022). She also co-edited two books including Food and Place: A Critical Exploration (2018) and Informal Work in Developed Nations (2010). Her research has been funded by the National Science Foundation, the US Department of Housing and Urban Development, and the Robert Wood Johnson Foundation.
Pascale is the director of an educational project funded by the USDA and focused on offering high-impact learning experiences designed to diversify pathways to food and agriculture careers.
Ph.D. (Political Economy and Public Policy), University of Southern California, 1999
M.A. (Maîtrise) (Economics), Facultés Universitaires Notre-Dame de la Paix, Belgium, 1992
B.A. (Licence) (Economics), Facultés Universitaires Notre-Dame de la Paix, Belgium, 1991
GEOG 340: Geography of Food
GEOG 341: Feeding the World
GEOG 342: Food, Place, and Culture
GEOG 353: Economic Geography
GEOG 354: Geography of Cities
GEOG 590: Community-based Geographic Research: Food Justice
GEOG 740: Seminar in Rethinking the Economy
CAL 400: Binational Approaches to Sustainable Food Futures
Geographies of Food: Food, Ethnicity and Place project
Urban Geography: poverty and social exclusion
Nonprofits and political geographies of state restructuring
Children's geographies and participatory research
Immigrant families and communities