Amy Quandt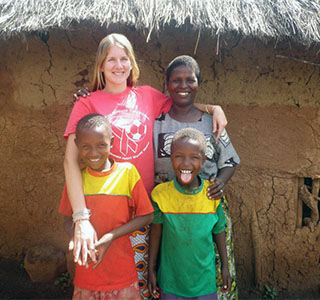 Assistant Professor of Geography
Storm Hall 306C | [email protected]
Curriculum Vitae | Personal Website
Amy Quandt is a human ecologist and environmental social scientist specializing in the intersections of environmental conservation and rural livelihoods. She received her Ph.D. in Environmental Studies from the University of Colorado Boulder, an M.S. in Resource Conservation from the University of Montana Missoula, and B.S. in Biology from the University of Puget Sound. Before coming to SDSU, Amy Quandt was working as the global coordinator for the Land-Potential Knowledge System Project, which works to increase global access to biophysical information for smallholder farmers about their land through the LandPKS app.
Her research and teaching interests include agroforestry, agriculture, mobile phone technologies, community-based conservation, climate change adaptation, social-ecological resilience, and mixed-methods (qualitative and quantitative) research. She is fluent in KiSwahili and has spent significant time conducting field work in Tanzania, Kenya, Ethiopia, and Thailand. She served as an Environmental Education and Sustainable Agriculture Peace Corps Volunteer in rural Tanzania from 2007 to 2010, conducted a livelihoods survey for the Red Cross/Red Crescent Climate Centre in Kenya in 2013, and spent a year in Thailand as the base manager for a Thai Elephant conservation project run through Global Vision International.
Amy Quandt's work has recently been published in the journals Environmental Science and Policy, Climatic Change, World Development, and Ecology and Society. She also has a book chapter on livelihood resilience to drought in East Africa being published shortly in the second edition of Angry Earth: Disaster in Anthropological Perspective.
Amy Quandt is currently looking for perspective graduate students. If you are interested in working on one of her projects, or proposing your own, please e-mail her with your CV/Resume and a one-page statement that includes: 1. Your research interests, and 2. Your longer-term career ambitions and goals.
Ph.D., Environmental Studies, University of Colorado at Boulder, 2017
M.S., Resource Conservation, University of Montana at Missoula, 2010
B.S., Biology, University of Puget Sound, 2005
GEOG 370: Conservation Science and Policy
Agricultural systems and agroforestry
Livelihood and social-ecological resilience
Community-based conservation
Climate change impacts and community-based adaptation
Impacts of mobile phone technologies in rural communities