Hilary McMillan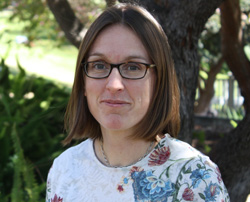 Professor of Geography, Master's Program Advisor
Storm Hall 308B | [email protected]
Curriculum Vitae | Personal Web Site
Hilary McMillan and her students study hydrology and water resources in a range of landscapes from pristine mountain headwaters to highly modified urban catchments. Hilary's research addresses the question of how large-scale watershed hydrology dynamics arise from multiscale water interactions with soils, plants, people and landscape. She focuses on the value of many types of hydrologic data to improve understanding of hydrologic processes and build accurate quantitative models to predict river flow, soil moisture and groundwater recharge.
Hilary's research has included developing public and commercial hydrologic models to make hydrologic predictions from watershed to national scales, and conducting fieldwork in mountain environments, agricultural regions and cities. In the San Diego area, Hilary and her students are using methods such as hydrologic process mapping and water isotope tracking, to discover how humans alter watershed dynamics in urban areas.
Previously, Hilary worked in New Zealand and the UK and continues many collaborative projects with scientists around the world, from flood forecasting in New Zealand to tracking soil moisture patterns with scientists in France. From 2015-2017, Hilary was Chair of the IAHS hydrological decade 2013-2022 with the theme 'Panta Rhei: Change in Hydrology and Society.'
Hilary welcomes new graduate or undergraduate students interested in topics including field hydrology, hydrologic modeling, environmental isotopes, and remote sensing; please get in touch.
Ph.D. (Hydrography), Cambridge University, UK, 2006
M.Res. Science of the Environment, Lancaster University, UK, 2002
M.A. (Mathematics), Cambridge University, UK, 1999
GEOG 375: Environmental Hydrology
GEOG 511: Hydrology and Global Environmental Change
GEOG 596: Practical Hydrologic Modeling
Changes in hydrological processes with space, time and scale
Hydrological predictions on national to continental scales
Uncertainty in hydrological data and predictions
Water Resources
Impact of humans on watershed processes
Socio-Hydrology