Kate Swanson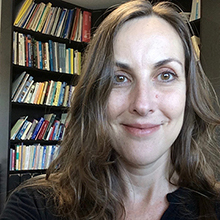 Professor of Geography
Storm Hall 304B | [email protected]
Curriculum Vitae | Google Scholar
On leave 2021-2022. Not accepting new students.
Kate Swanson has wide ranging interests in critical human geography, but she currently focuses on youth migration in Latin America and the U.S./Mexico border region. In recent years, she has worked extensively with migrants in Mexican and American immigration detention centers. Her research explores issues surrounding youth, rights, inequality, and violence.
Her past research includes work concerning: street kids, street vendors and beggars; policing and zero tolerance; research ethics and methodologies; identity, power and inequality; pedagogy and geographic education; and environmental policy. Her geographic focus is also broad and she has undertaken field research in Honduras, Mexico and Ecuador, as well as China, Vietnam, and Scotland.
Based upon her past work, she is the author of three books, including 'Begging as a Path to Progress: Indigenous Women and Children and the Struggle for Ecuador's Urban Spaces,' (University of Georgia Press, 2010). She has also published her work in a variety of journals including: Annals of the Association of American Geographers; Antipode; Gender, Place & Culture; Journal of Ethnic and Migration Studies; and Urban Geography. Her teaching largely focuses on critical social and environmental issues around the world.
Given her current research interests, Kate welcomes students interested in migration and detention in the US/Mexico border region. However, she is open to other topics as well; please don't hesitate to get in touch.
Ph.D., University of Toronto, Canada, 2005
M.A., University of Guelph, Canada, 1999
B.A., University of Guelph, Canada, 1996
GEOG 348: Environment and Development
GEOG 554: World Cities: Comparative Approaches to Urbanization
GEOG 586: Qualitative Methods in Geographic Research
GEOG 700: Research Design in Geography
Borders and migration
Geographies of children and youth
Identity, power and inequality
Cities and urban geography
Qualitative methodologies